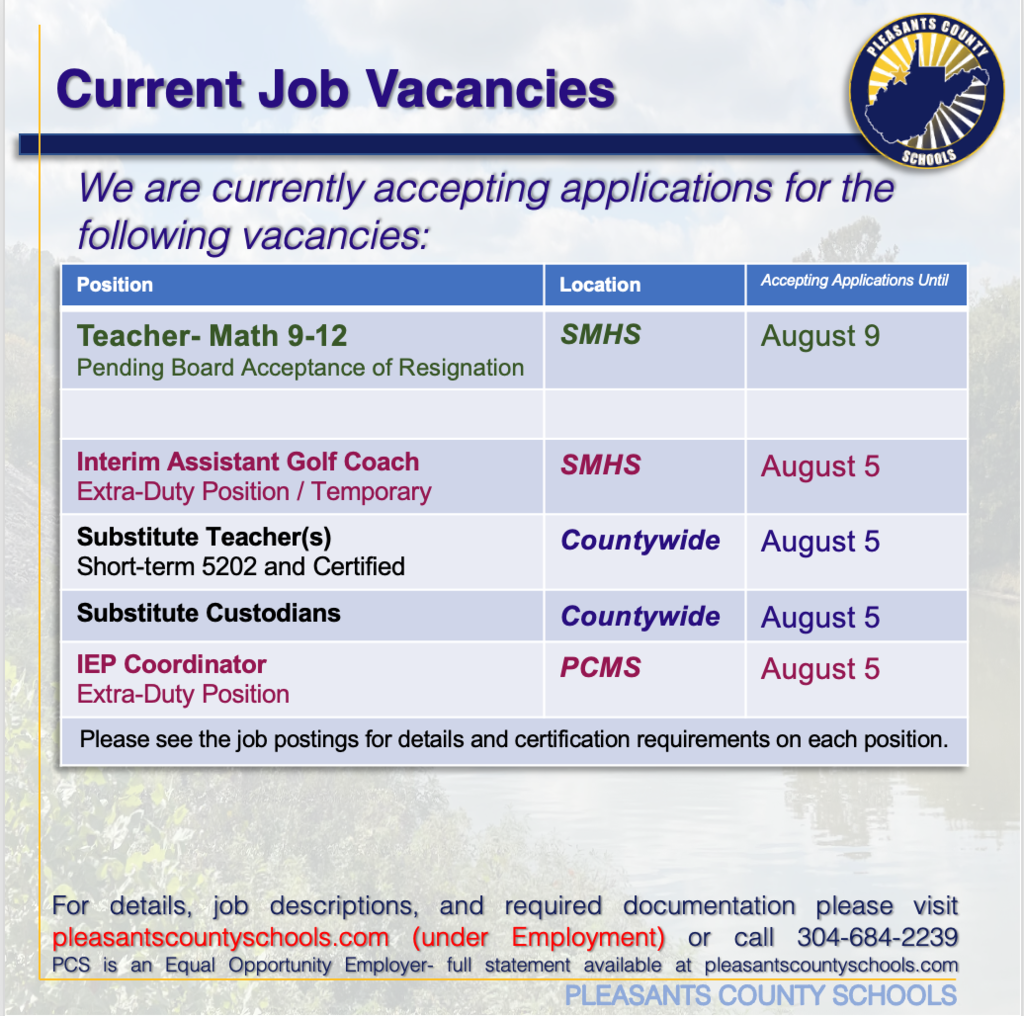 Update: Power was restored to SMHS late this morning. Our battery backups were able to prevent loss of phone and internet service while the power was off.

Due to a loss of power at SMHS, Pleasants County Schools will be without phone and internet beginning sometime this morning. This outage could last from several hours to 1-1½ days. Service will be restored as soon as the power issue is resolved.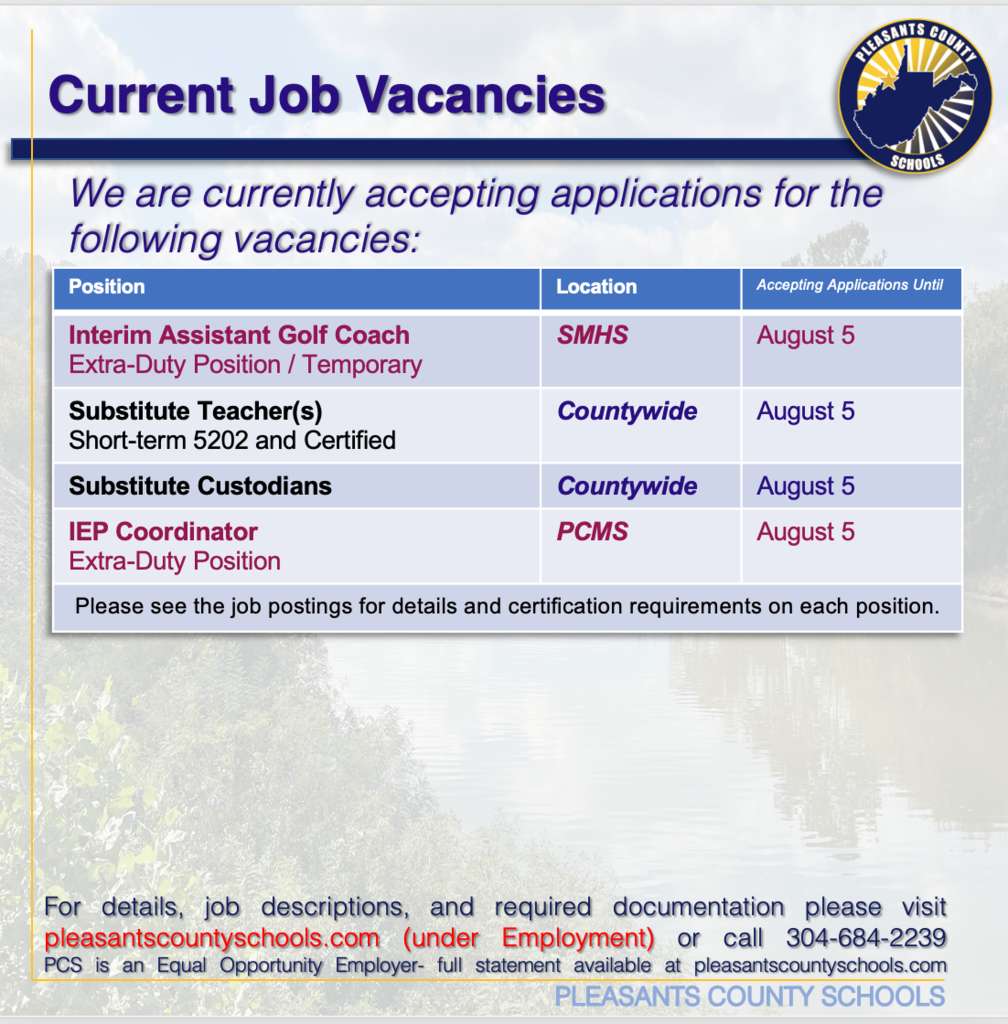 Last Chance Physicals will be offered at Ritchie Regional (SMHS Campus) on Monday, August 1. Please see the image for details.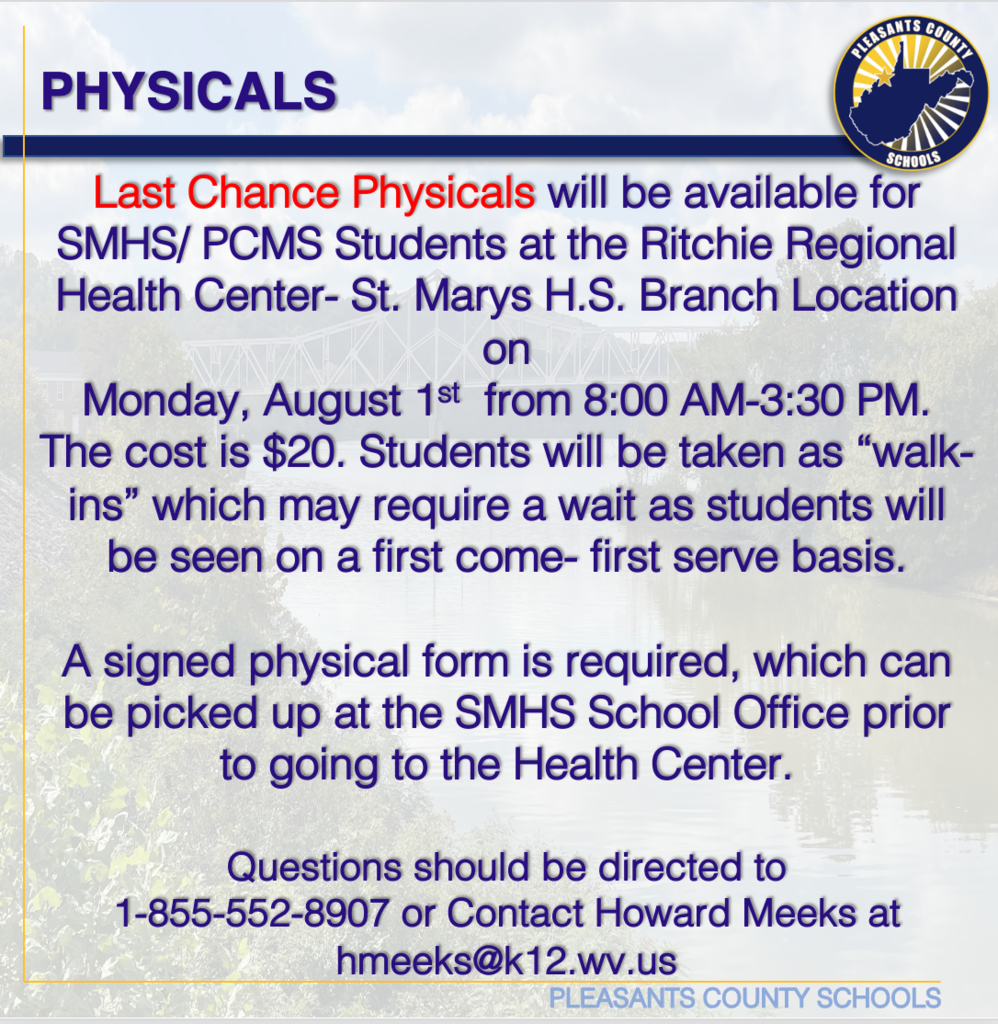 All Non-Full time Personnel must complete policy training by watching the training video and completing the form. This includess professional and service substitutes, coaches who are not also full-time employees, extra-duty employees such as game operations staff. Please see the form for details.
https://5il.co/1ecao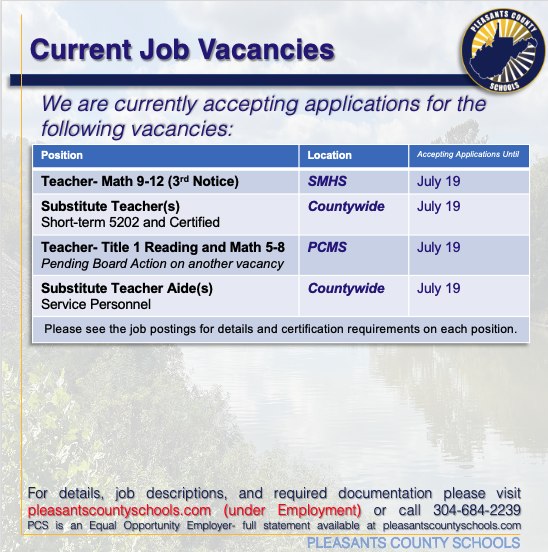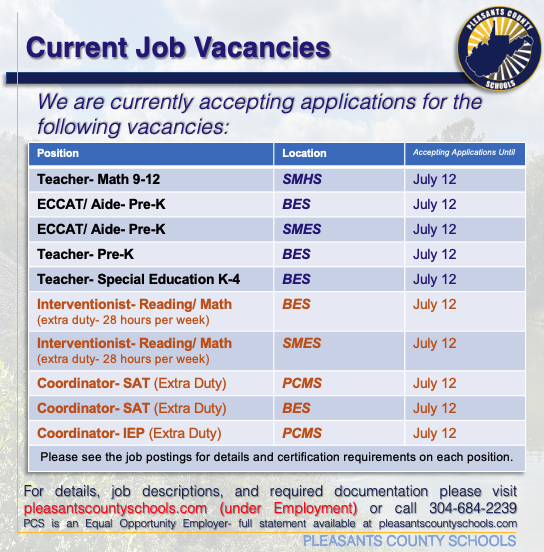 5th Grade & New Student Orientation Thursday, August 11th, 2022 5:30 PM - 7:00 PM

In observation of Independence Day, all schools and offices will be closed on Monday, July 4th.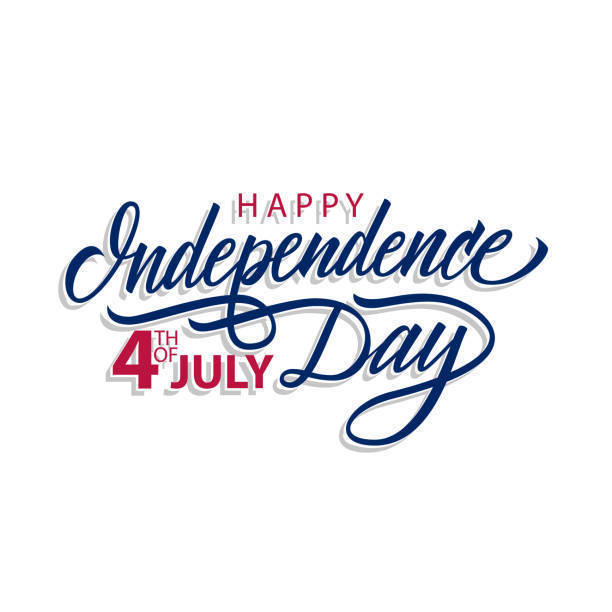 2022-2023 First Days of School: Grades 1-12: August 17 Kindergarten: August 24 Pre-K.: August 29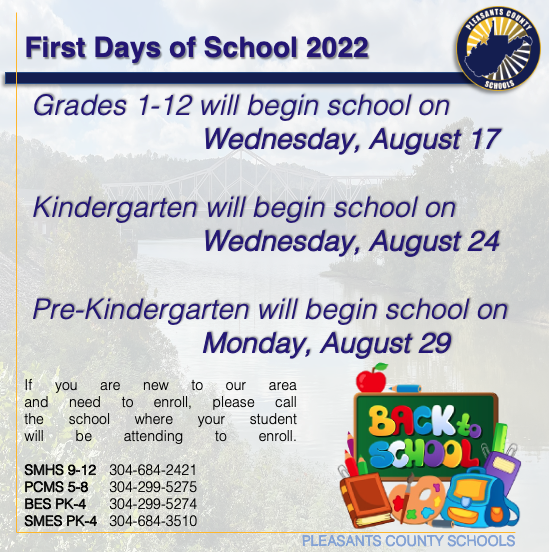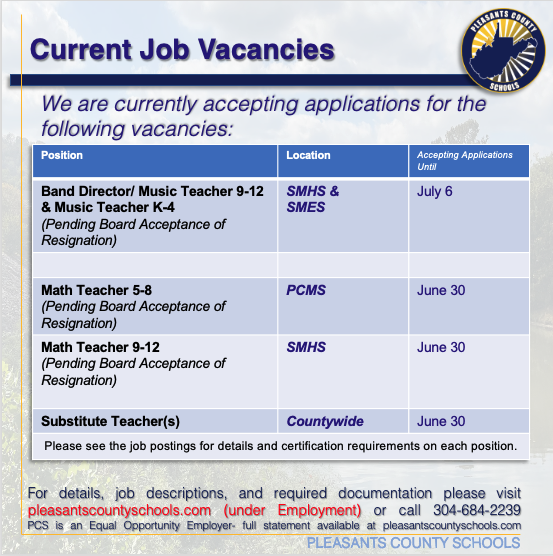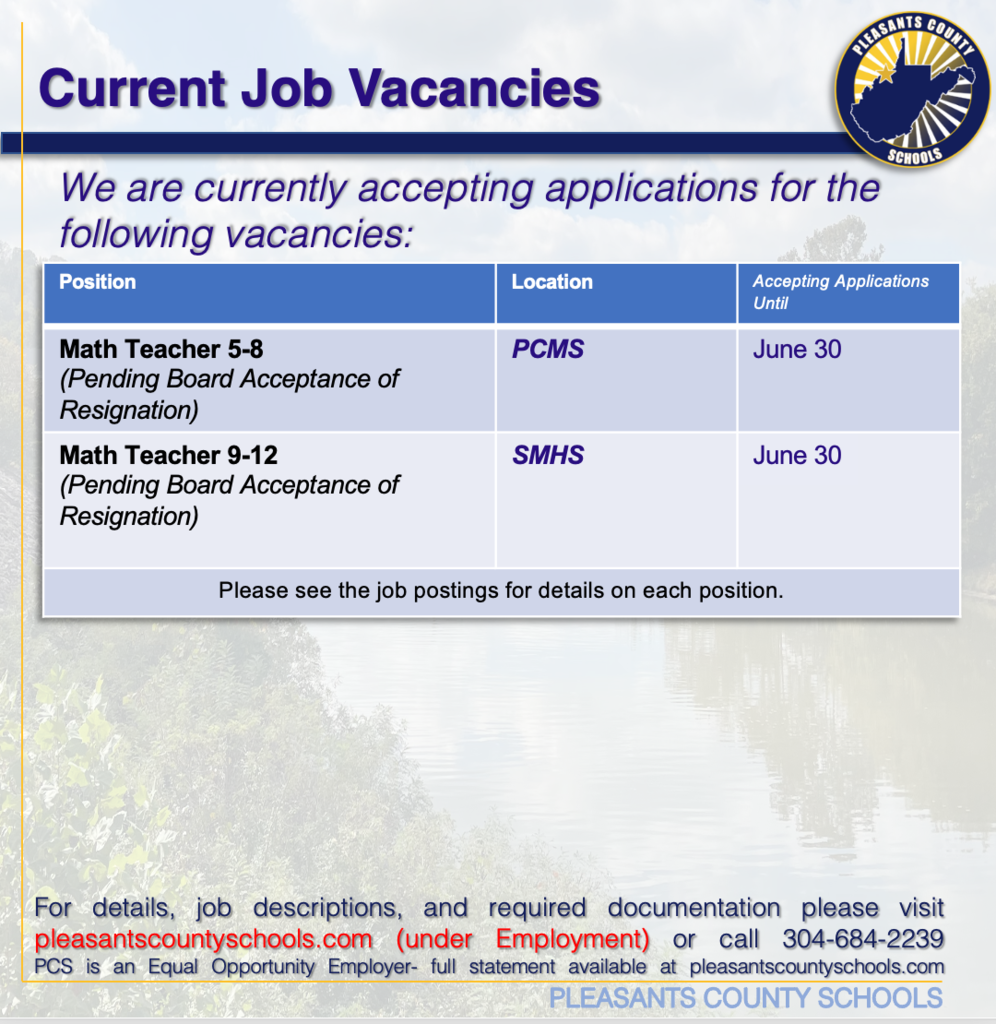 In observation of West Virginia Day, all schools and offices are closed on Monday, June 20.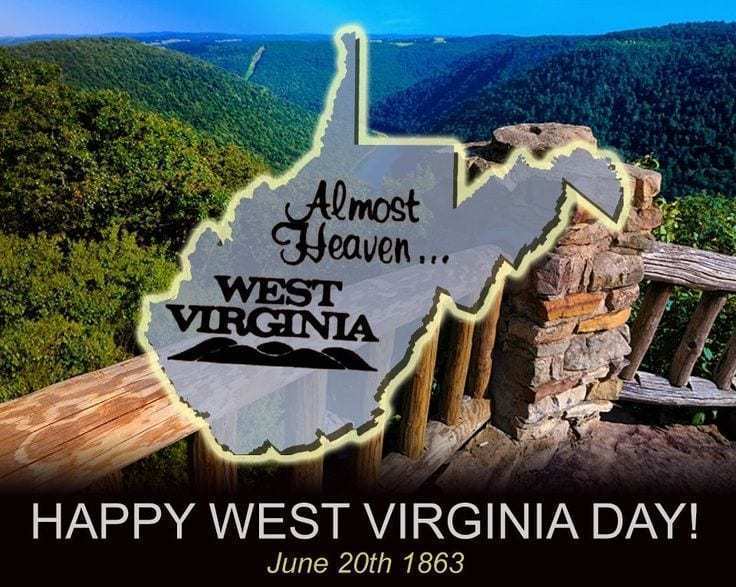 Pleasants County Schools will be open on June 17. All summer services will continue as scheduled.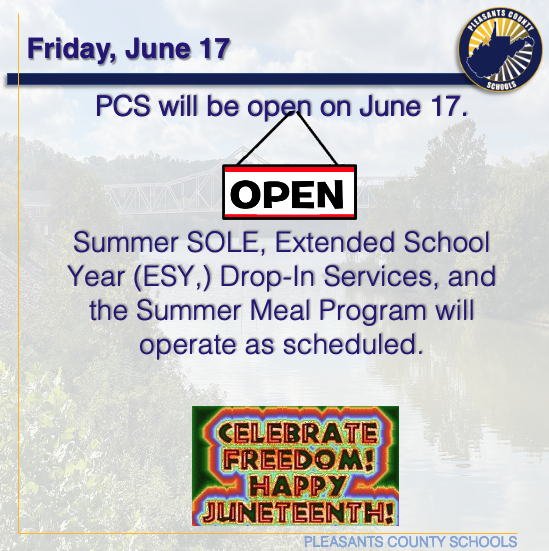 On this date in 1777, the Second Continental Congress adopted the flag. Both President Wilson, in 1916, and President Coolidge, in 1927, issued proclamations asking for June 14 to be observed as the National Flag Day. It wasn't until August 3, 1949, that Congress approved the national observance and President Truman signed it into law.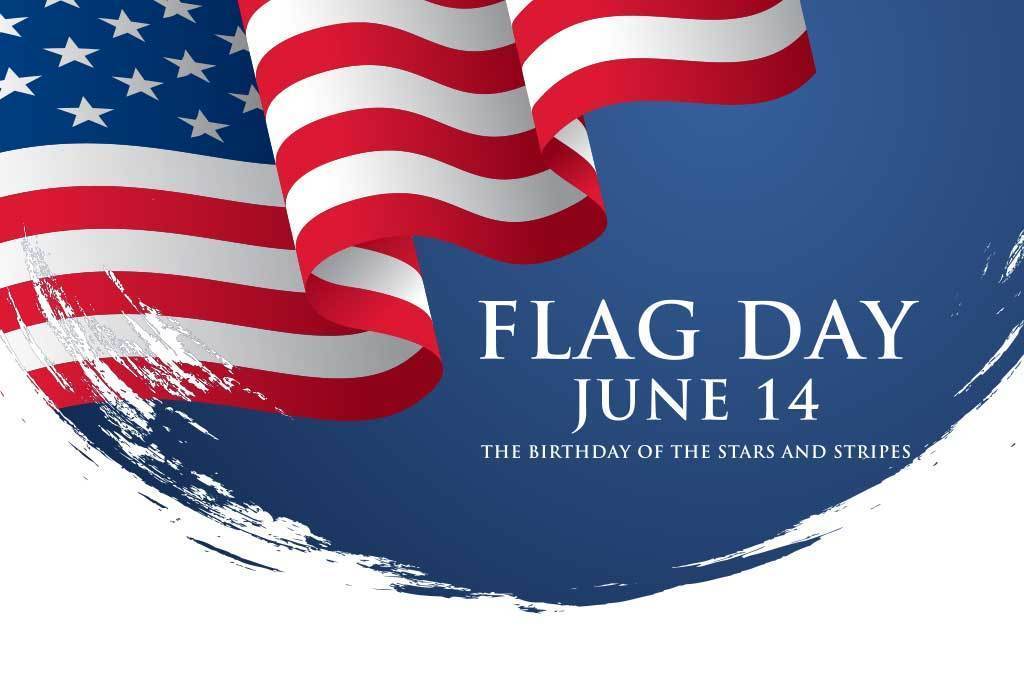 Dear Community- during the months of June and July we will have a large number of our students attending summer academic programs and many more stopping by our schools for the summer food program and other "drop-in" services. Please exercise caution when driving near bus stops and near the schools as we will have students coming to the schools by bus, by car, and by walking. Thank you!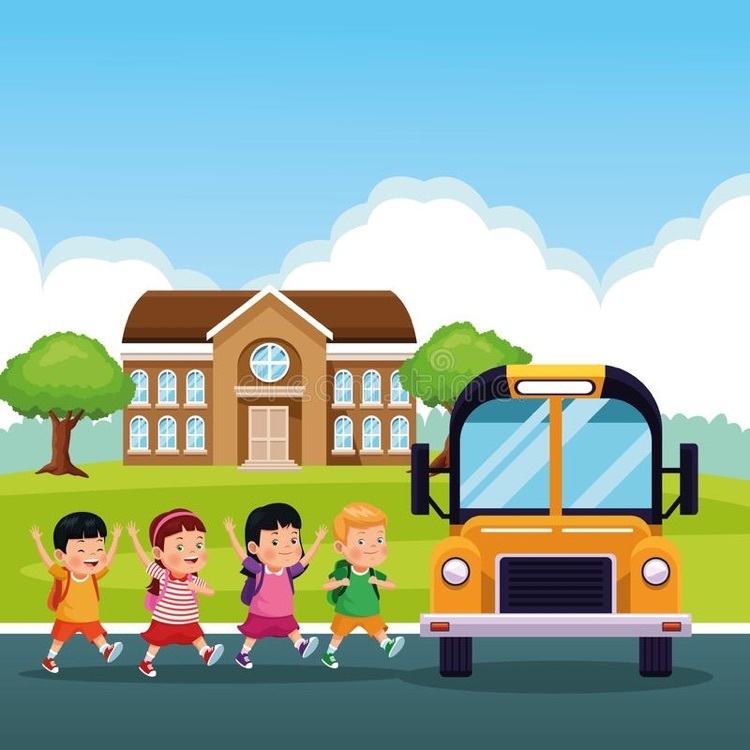 COACHES/ BAND DIRECTORS: as a reminder, all coaches/ band directors (including authorized/ non-paid) who are under the WVSSAC must complete the Annual Verification of CPR/AED Training FORM each year. If your certificate or card is valid from the previous school year (and is on file,) you do not need to resubmit a new copy of the certificate/ card, however, the verification form is required every year. Download the form at:
https://5il.co/siv8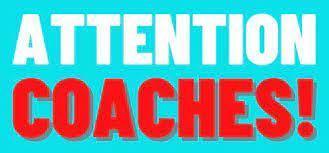 Congratulations to our BACF All-Star Game Participants from Pleasants County! We were proud to be the hosting school district for the 2022 BACF Game and would also like to thank everyone who had a role in organizing and facilitating.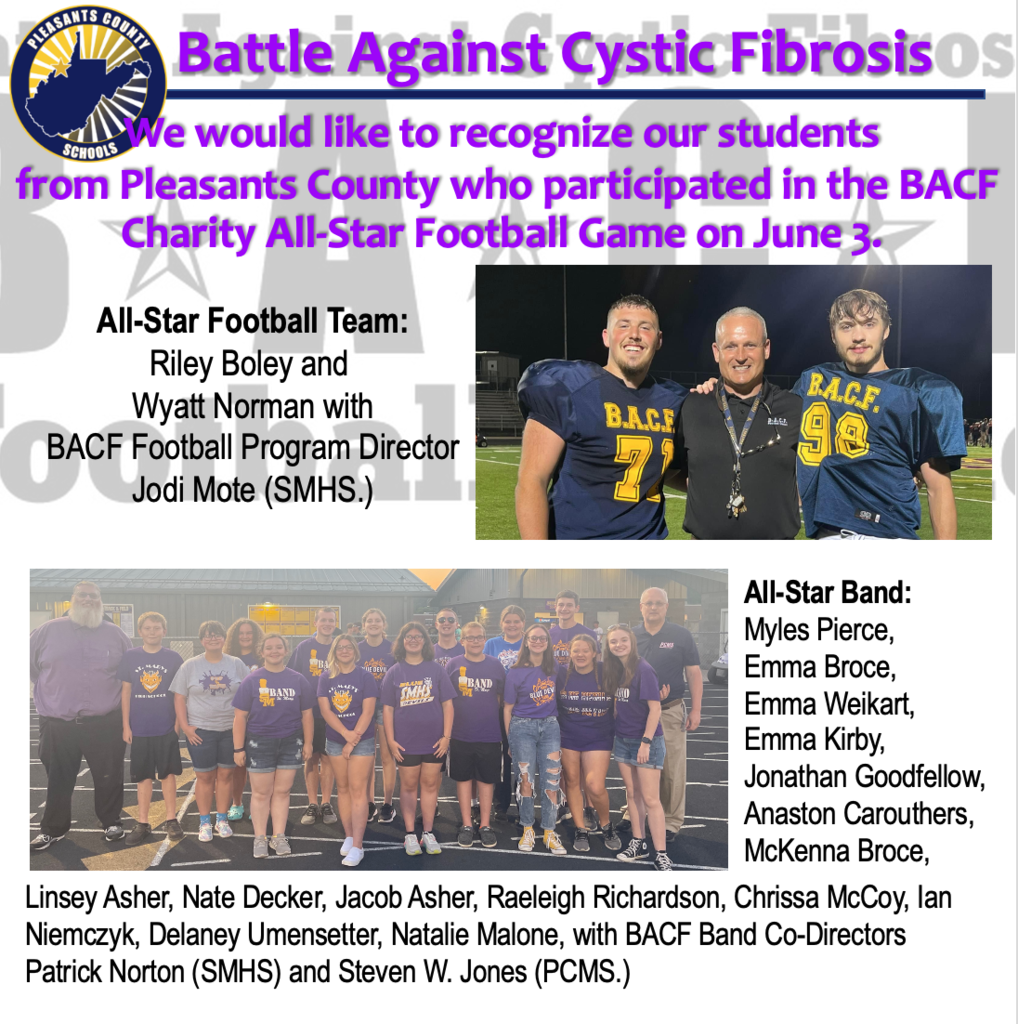 In honor of Memorial Day, offices and schools will be closed on Monday, May 30.